Whenever there is competition between two emerging giants in the audio electronics market, there seems to be something one these two has to offer that has greater value than the other. In this article we are going to discuss and compare Sonos Vs Bose: Which one has more value to bring your home entertainment.
In order to get the full idea of these two home electronics makers, we feel its necessary to understand the history of both companies. Also, where do they stand on as far as quality, performance and what do they have to offer? Next we'll look into the top three products each of these brands has to offer for the home theater, music and gaming lifestyle.
Then we'll show you why Sonos and Bose stands on its value for better home entertainment and customer service. Finally, you will have the chance to share with us which one of these terrific brands offers more value.
Sonos Home electronics history
The company was founded in 2002 by a team of investors called John Mcfarlane, Craig Shelburne, Tom Cullen Trung Mai. Today the Company is run Patrick Spence. Throughout the years the company manage to partner up with over hundred companies in the music industry. Its makes perfect sense to do that if your the company that is looking to become apart of the audio industry. Its important to include larger music corporation that offer great services to the public.
Some companies like Pandora, Spotify, Amazon Music, QQ Music, IheartRadio offer some the service that is most appealing to us today. As you can see most of the these companies is apart the larger network of streaming service that has made a significant impact on the world of music with its free offers and wide range of music selections you can gain access to today.
Sonos has made the point while joining these companies, that its wiling to provide great audio services and add more value though the music streaming route. Using these features in its top end products has made the electronic giant soar and in sales and revenue throughout the years by giving great value with its top of the line products and services.
Three of Sonos Top Electronics
Not in this order we would have to say in terms of value and entertainment, Sonos beam has to be one Sonos best and most affordable soundbar set. Sonos offers more to the consumer in value than most soundbars out there. Just look at the three of the best features you should expect to find in a Beam below.

Sonos Beam
Voice Command Though Amazon Alexa and Google Assistant
Amazing Speech Enhanced by Oscar Award Winning Sound engineers
Upgraded Radio HD package that allows you access to Pandora, Spotify and more!
Three of the best options to have though one little soundbar. Also, packs a punch in quality through home theater, music and voice command services.
Although its very affordable, you can get more out this setup with an upgrade with other devices exclusive to Sonos only. Beam is recommended for beginners in the market of smaller TV's and smaller spaces. Which is quite the impact to those who only need the basics of home theater or good music listening.
Click here if you would to know more about Sonos Beam we have an in depth review that covers more options features.
Sonos Move smart speaker
One the best smart speakers to use at home or on the go. You can see more of these portable speakers in different environments whenever there is a place that welcomes it most. From Swimming pools to dance halls and parks, this speaker and the features to use is fantastic to use in different environments. Next we'll show three top Features Sonos Move has to offer below.
Designed for indoor and outdoor use, also is Drop resistant and weatherproof
Batter powered which operates on 11 hours of play back. Uses a smaller charger base
Connects though WIFI for Home and Bluetooth on the go plus uses Sonos App for Controls and Music
As you can see the Sonos Move offers music streaming though Its own App which is powered though smartphones. That means you can use the options and features for volume selection of music at your own leisure though a tablet as well. Don't' forget that your in the realm of using Alexa and Google assistant. This means you can voice control the whole experience without a hitch.
Take a look at our Review for Sonos Move and decide for yourself. Click to read more
Sonos Arc Premium Smart Sound bar
Sonos Newest Smart Sound bar geared for home theater entertainment, which is pretty much their best soundbar. You can get a lot of features and options with this device alone. When its paired and connect with other devices though the Sonos family of electronics, be ready to be amazed by how far the sonos electronics has become to deliver to you home lifestyle.
Its a reason why they labeled this device a premium smart soundbar. Due to its loaded array of options and features, Sonos Arc improves when its connected to others electronics is why its considered among many as the top sound bar in the market.
You are getting the best of both worlds in this Soundbar in terms of Gaming, TV and Movies with excellent musical entertainment and has many more options when you connect others such as:
Sonos One SL– Dynamic Surround speakers that wirelessly connect with Arc
Sonos Subwoofer– Carries the boom and bass that you need for great theater performance
Sonos Boost- Uses The WiFI your Provider gives and creates its standalone self operating internet connection
Those are some the best options that can elevate your excitement for cinema, Music and gaming with little to no cords and audio wires just WIFI and Bluetooth built in features. Now that you have found the options for connection though other devices, take a quick look what Sonos Arc offers overall.
Top Three Best Features you can get with a Sonos Arc:
TruPlay is a feature that carries the sound acoustics throughout the whole room to make sure you're hearing the whole action from each corner of the room to the next.
Apple Air play or Sonos App with Every streaming service available for podcast to popular music selections and HD Radio selections.
Dolby Atmos, To deliver the fine-tuned surround sound you have been looking for. Also, has eleven sound drivers for premium sound support.
As you can see the reason why its a premium smart soundbar with multiple features and options to use for not only cinema and gaming, but an array of music selections and options to use in different formats. Its the topping of the cake in terms of sound theater fun.
Click here if you would like to get full specifications and options on pricing and shipping.
How does Sonos Offer value to the Consumer
streaming access is why Sonos has so much value to offer to your home environment. If your looking to get better stereo sound around the house while you are cooking and reading, sonos has audio electronics to help you with that. Also, its solved the reason for missing remotes and lost controllers by giving you three options to use with voice commands with Alexa and google Assistant, Sonos App. Such features like these calls for greater control on every device with simplistic command functions.
Wireless connectivity is the new wave for the consumer. Get use to voice and one touch access devices with easy to plug and play options. For personal devices like the Tablet and Smartphone is an ingenious way to keep your product base in a competitive market.
Its hard to dislike a Sonos electronics, especially if you are dealing with affordable prices. Taking the route of Streaming Music, TV shows and gaming options has made it a much bigger option to choose in the world market for home entertainment.
Bose Electronics history
The Bose corporation was founded in Framingham, Massachusetts in
1964 by man called Amar G. Bose. Bose, a student grad and received an Engineering degree from MIT purchased a stereo set and was disappointed by the performance and decided to do research on the technology to develop his own version of audio equipment. This task was a desire for him to measure the way of quality sound can be perceived by the human ear. This research led Bose to discover opportunity though investments into his own company.
Amar Bose work to built his company with the goal in mind to create great sound technology combined with the simplicity to have access to use anywhere and everywhere. Partnerships with the U. S military, General Motors Corp, and Honda Motor Corp. was vital to his success. Bose still continues to deliver products to the consumer market but decide to shut down store operations in the U.S. in March 2020
Now The company is relaunching all of it products online and worldwide. Bose still stands on quality, performance and simplicity. We would like to show you the three top audio products Bose gives in value to home entertainment.

Top Three Bose Electronics
Bose Home Speaker 300
Bose (HS) 300 has all what you need for listening quality on the go. What a deal to have such a powerful bass structural system. Crafted to fit into a smaller sized device, its has a nice slim and sleek design. For the portable audiophiles out there who crave the smaller yet powerful audio sound. Also delivers premium entertainment in the palm of your hands.
Check out the best features you can expect out of the Bose home Speaker 300:
Powered by Alexa and Google Voice Assistant
Gives three options for Control Voice Touch and Bose App
Connects with Apple Air Play, WIFI & Bluetooth Connectivity
With Bose home Speaker 300, your in the drivers seat of control though multi-optional sets to make it easy to use and accessible. If this is something your interested in.
Click this link for Shipping offers and special Pricing Details.
Bose Smart Soundbar 300 Set
The smart sound bar to have in any home environment. Those of you who love to have three options of features in one, well this is it. Have a whirl switching between modes of use with its built in technology features and creative fun filled activities for you and family to enjoy for decades to come.
Don't just hear the sounds of the game, feel it, with its top of the line Subwoofer that's included. And if that is not enough to quench your surround sound thirst, add more Bose products your arsenal to complete the ultimate home theater entertainment zone.
We found Three top features Bose Smart Soundbar brings in value. Check them out below.
Bose Wireless Bass Module 500- five hundred, meaning amps of bass powerful and structural low crisp tones.in a 10′ Box.
Bose Simple Sync- Connects to your favorite Bose devices with ease, like the Bose Headphones to not disturb others.
Bose Voice 4 Video- Technology that allows you to connect streaming video and other device like Cable Satellite and TV.
With these three top features, your all set to take part of what the entertainment world has to offer to your home. Plus its all the matter of saying it with Alexa and google assistant built in.
Enjoy the Bose App for volume and sound controls to tune it your taste. We also found out that its possible to connect to other rooms using WIFI and Bluetooth technology to other Bose speakers.
To get more information for Bose Soundbar 300, click here for special pricing and shipping information Here.
Bose SoundLink Revolve Portable Speaker
Just when you think there no way Bose can take the music to the next level, Bose did it in marvelous fashion. Built by its stylish, yet simple compact portable and water resistant smart speaker.
Sound link brings more to table than you think in terms of quality and premium dynamic sound. Easy to carry and great to distribute in audio entertainment. An excellent device for the adventurer with a thirst for greater sound theater fun.
Revolve has the power to keep the fun going even after you have called it a day. With its amazing load of 16 hours of playback from one solid charge. Built to withstand the elements and what life happens to bring, has a sleek and compact design for ease of access that only weighs 1 Pound.
Three best features to expect out of a Bose Sound link Revolve Speaker: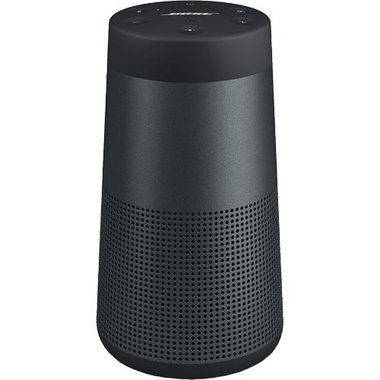 Wireless Bluetooth Pairing to other speakers though voice prompts.
Easy to Carry and allows for a Tripod universal mount.
Playback allows between 12 to 16 hours off a single charge.
Think about how much fun you can have with Bose sound link Revolve in your home or pool party? The difference is your creative ideas to make new memories while enjoy the musical fun and enjoyment of life. If your strapped for cash or on a budget, there are options for financing below.
Click here to take advantage of special pricing and shipping details at BrandsMart.com
How Does Bose Offer value to The Customer?
Though perseverance and sound quality. Taking its stand on making products and service more accessible to the public. Using the internet to reach more consumers plus offering multiple options for use with its products is the way of Bose.
What you can expect in Bose products is superior standards of audio quality that has crisp and deep tones of acoustical performance every time the device is turn on.
Expect great things to happen when your in need for music or better bass engineered to perfection. The innovations of craft and design seem to be the starting point of this audio electronic giant. The world of internet and digital options is the future focus for simplistic functions.
Sonos Vs Bose: Which One Has More Value?
That is the question, you would have to ask yourself. Which one has more value for your needs? Are you looking for better value in pricing? This is one of the most asked questions. Look, we all would love to save some money on a good product to buy, So It would be Sonos in terms of price savings.
You can catch good to great deals though Bose secondary markets as well, if you look for it enough. For those of us who crave more sound performance value the scales dip to Bose for sharp audio. Make no mistake about this, you have Oscar award-winning Engineers who craft Sonos speakers to perfection as well.
To help You Solve this Question Click here to learn more about Bose Electronics features and options. For Sonos Electronics Features and functions read our article by clicking here. Give your thoughts on this article by commenting below. Share This Image With Your Friends on Pinterest under The Portable Speaker Board
We are excited to know which one of these audios electronic brands offer more value to your home. Be sure to check back with us for more exciting articles, tips and advice at coolhometheaters.com